KINE INDUSTRIES, LLC
Regular price
Sale price
$60.00
Unit price
per
Sale
Sold out
1500mg Total (500mg CBN + 500mg CBG + 500mg CBD) 
(30ml Bottle – 60 Doses x 25mg)
3000mg Total (1000mg CBN + 1000mg CBG + 1000mg CBD) 
(30ml Bottle – 60 Doses x 50mg)

Clean and simple:  Pure hemp-derived CBN, CBG, and CBD isolates grown and processed in the United States in an organic, 100% coconut MCT oil.  
Convenient
Contains no sugar or sweeteners
Neutral flavor
Vegan and gluten free

Child-resistant glass bottle with calibrated glass dropper
Ingredients:  MCT Oil (100% organic coconut), Hemp-Derived CBN, CBG, and CBD Isolate
View full details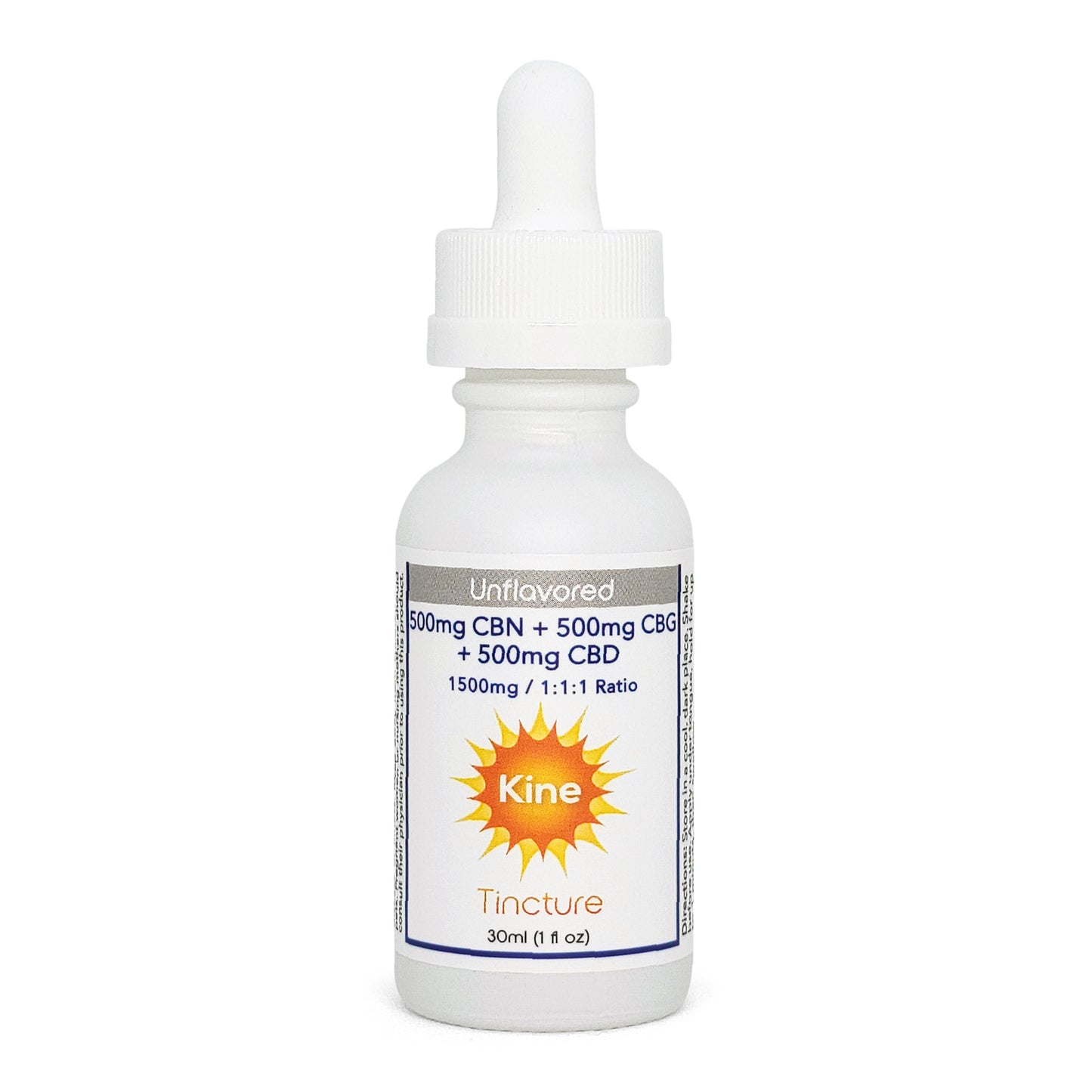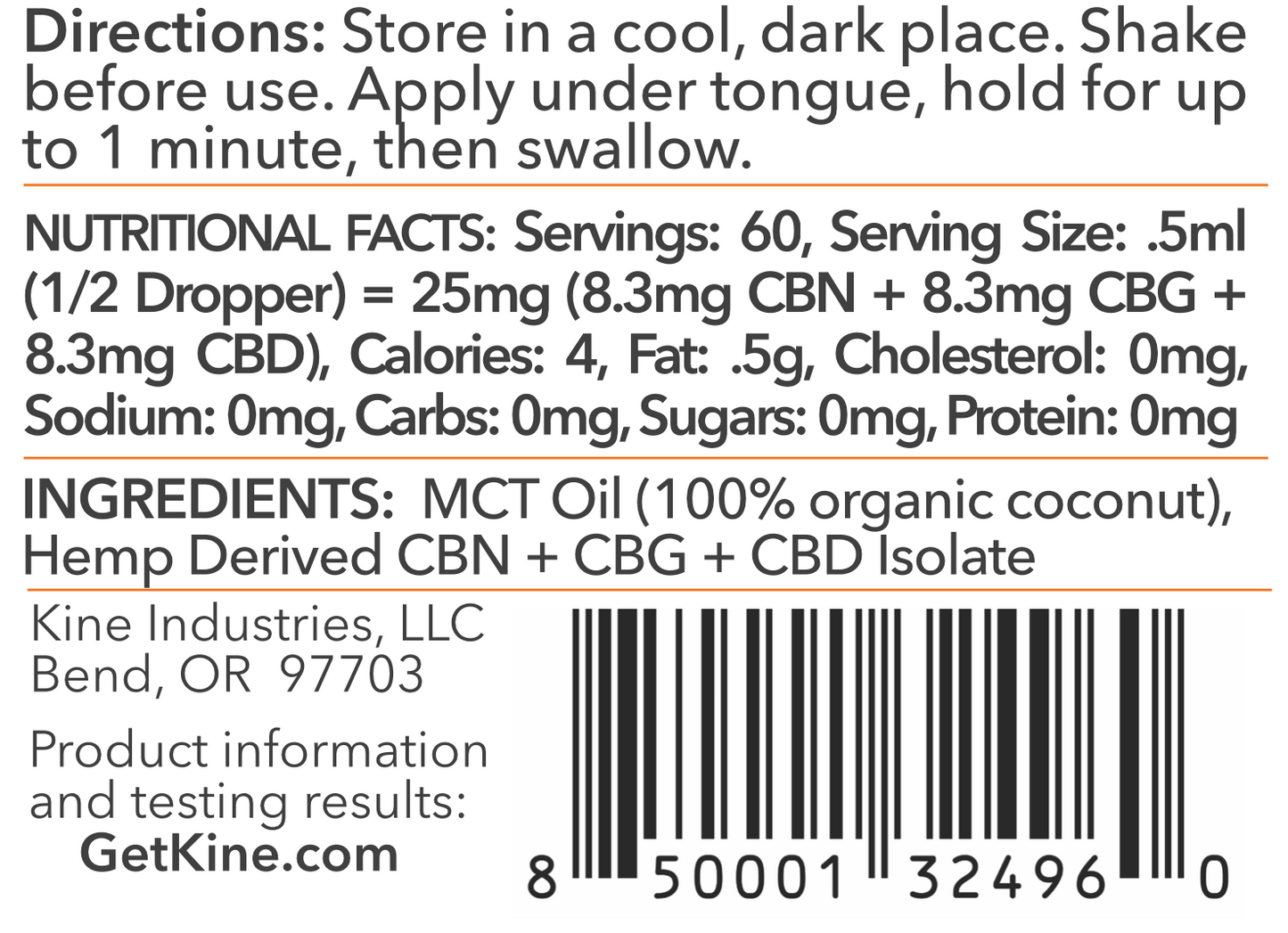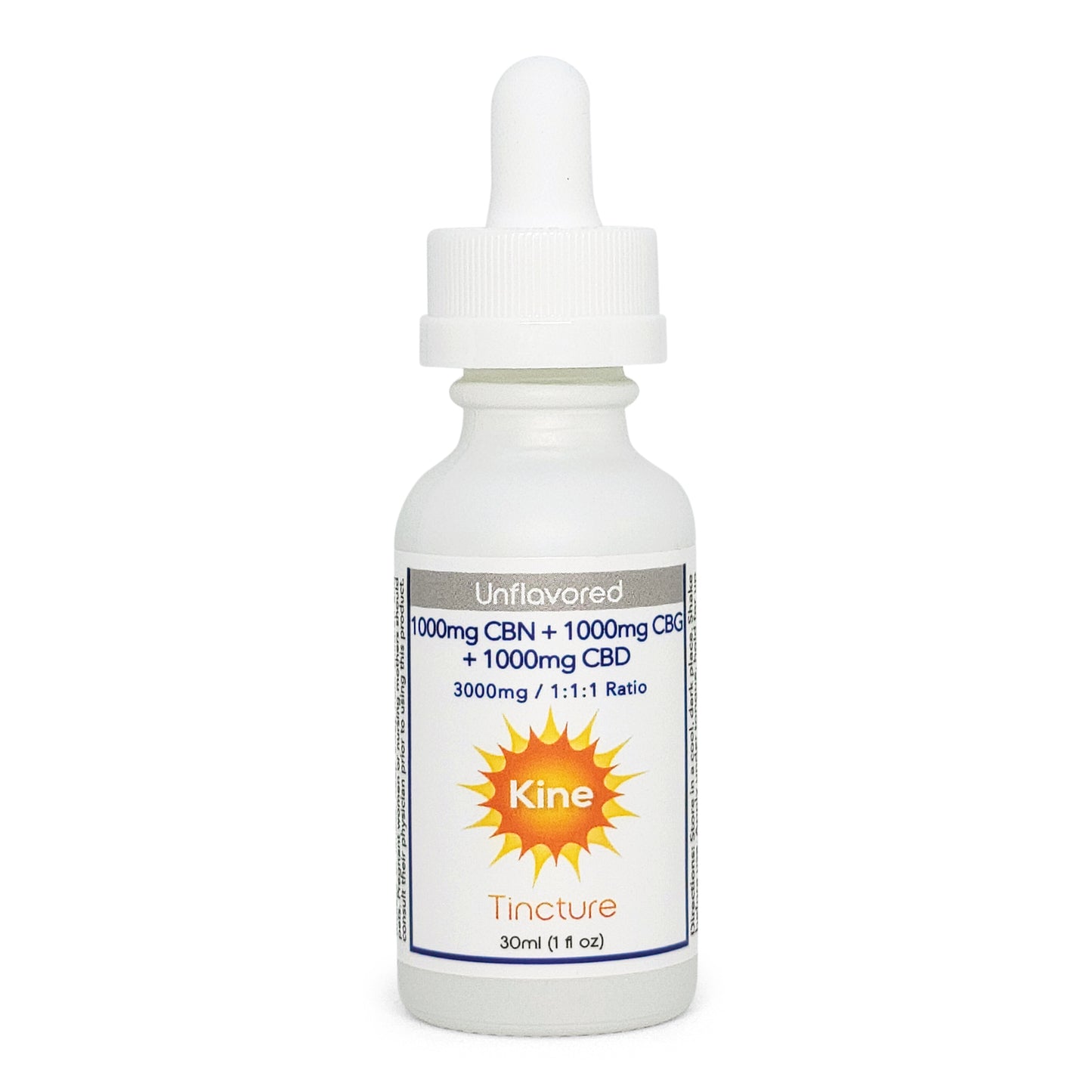 FAQs About CBD CBG CBN Tincture
What is a CBD CBG CBN Tincture?

CBD, CBG, and CBN are three beneficial cannabinoids found in the hemp plant. A tincture combines these compounds in a carrier oil to provide a range of potential wellness benefits.
How is Kine CBD CBG CBN Tincture different from other brands?

Kine tinctures stand out due to our rigorous quality controls, ensuring a pure and potent product that surpasses industry standards. Our dedication to excellence means you're getting the best CBD CBG CBN tincture on the market.
How do I use the CBD CBG CBN tincture?

You can place the tincture drops beneath your tongue for fast absorption. Our CBD CBG CBN tinctures come with a calibrated dropper so you get the right dose.  With Kine products, precision and effectiveness are guaranteed.
What are the benefits of using CBD CBG CBN Tincture?

These cannabinoids may support relaxation, promote healthy sleep, work as an anti-inflammatory, and provide relief from everyday stresses.  With Kine products, you're also benefiting from our high quality tinctures which are additive-free and contain no artificial flavors or colors.
Are there any side effects?

While these tinctures are generally well-tolerated, some individuals may experience side effects. It's always recommended to consult a healthcare professional before use, especially if you're on other medications.
How do I know I'm getting a high-quality product with Kine?

Kine prides itself on its transparency. Our CBD CBG CBN tincture products undergo third-party lab testing, which is available publicly on our website. This ensures utmost quality, purity, and potency. With Kine, you're always getting the best.
Can I use the CBD CBG CBN tincture alongside other Kine products?

Absolutely! Our CBD CBG CBN tincture can complement any wellness routine and pairs excellently with other top-notch Kine offerings.
Is the tincture THC-free?

Yes, Kine's CBD CBG CBN tincture contains 0%THC, ensuring you experience the benefits of the cannabinoids without any psychoactive effects.
How should I store my CBD CBG CBN tincture?

It's best to store your tincture in a cool, dark place away from direct sunlight. With Kine's premium packaging, maintaining the tincture's quality is easy.
Why choose Kine over other brands?

When it comes to CBD CBG CBN, we devote 100% of our efforts to the highest quality, consistency, and effectiveness. Our commitment to providing the best products ensures our customers receive the most from their wellness journey.